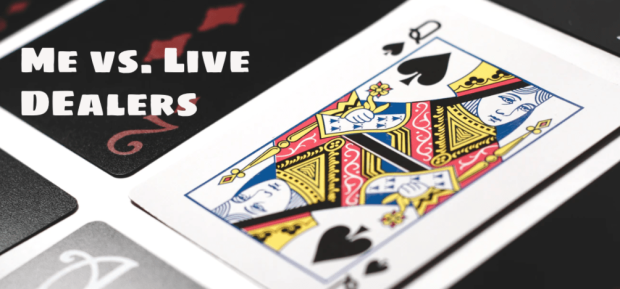 Part 76: Me vs. The Live Dealers

Annonymous

Published 25/09-2019
When I first started my journey out on the big online casino universe nothing stressed me out as much as playing Live Casino games. I felt like it all went too fast and that the Live Dealers, though professional, spoke waaay too much. I can't say that I have gotten used to their fast pace of talking but I must say that I appreciate the live games more now than ever before. I feel like they serve the purpose of immersing us users into the casino world without us moving from the comfort of in my case…my couch.
Lanadas, being an Aspire Global operated online casino, also offers a wide range of online casino games. Usually, when I do a tour of the live casino games offered by a given online casino, I focus on the classical games, Blackjack and Roulette. But the Live Casino section offers much more. There are titles such as "Baccarat Squeez" which I've tried once but I didn't understand the point of the game, but now I know that we have a guide on FindFairCasinos that I can use to guide me. Other unusual titles include "Football Studio" and "Dream Catcher" … I thought today I'll guide you guys through these games.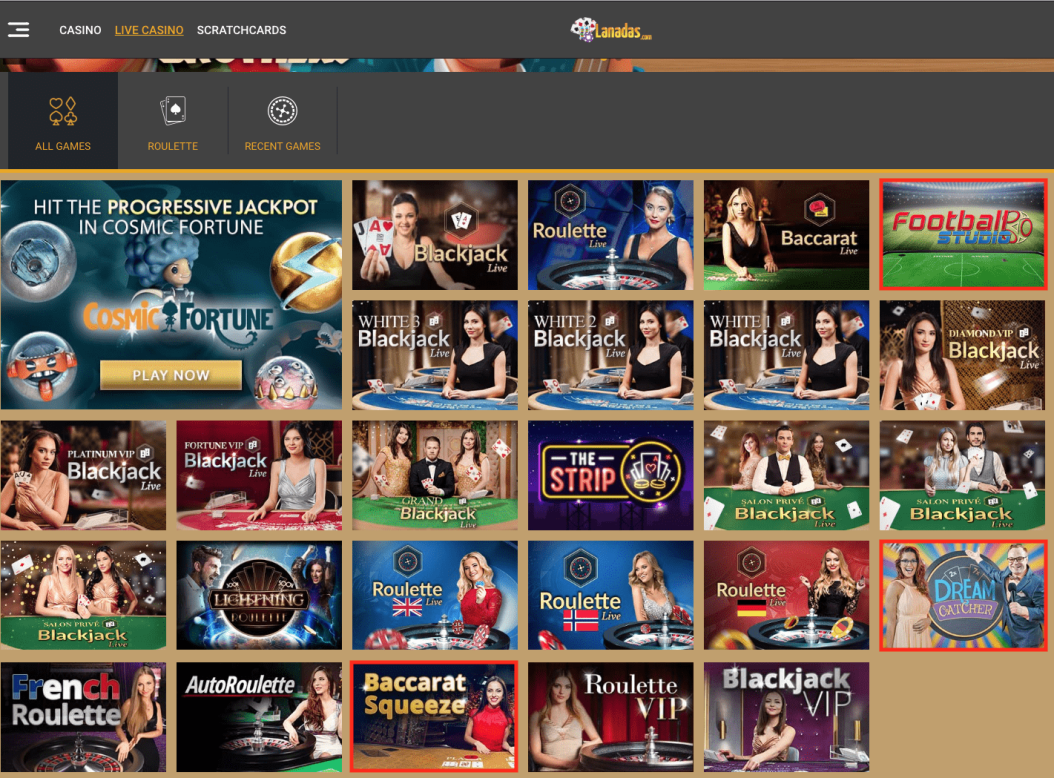 But before I start… here is the main thing you should know about Baccarat, as learned from the Baccarat Guide on FindFairCasinos:
The player (Us) bets on whether the player or the bank (the dealer) will be closest to 9. Ace has the value of 1, a ten-card, as well as all the picture cards, have a value of 0.
Baccarat Live
As this was my first time really understanding the rules, I felt like this would be easy peasy, but once you get into the game…you start doubting yourself… "shall I bet on the player? Or maybe I should bet on the banker?!?!" That was my mind for a few seconds which is why I didn't manage to bet before the betting time was closed. I had to wait for the next game and there I decided to bet €1 on the player… AND I WON!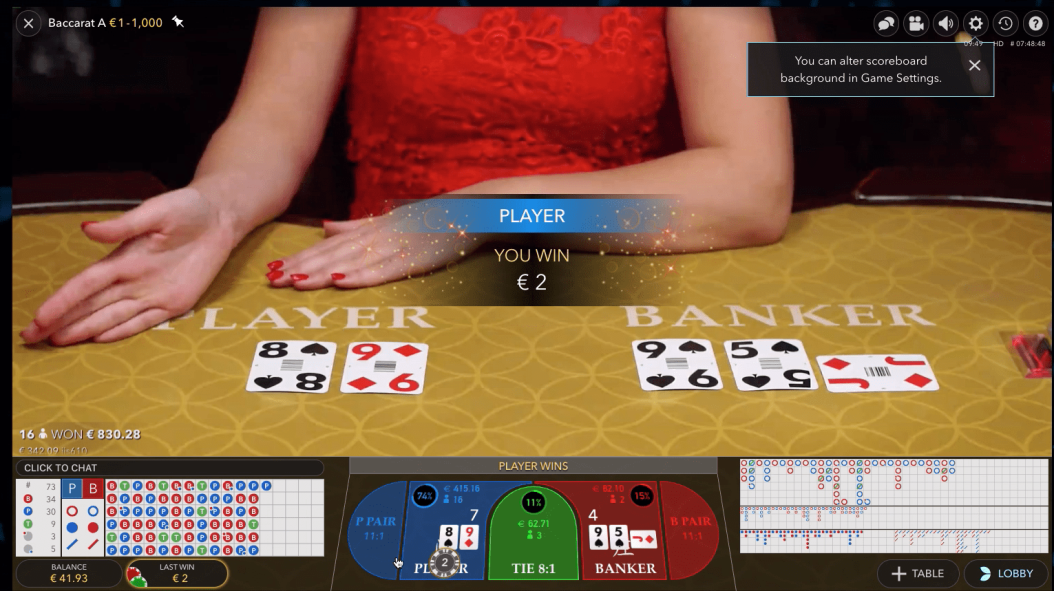 My overall opinion on Baccarat? I find it very entertaining. I guess you can't count cards but somehow your gut can tell you where it is going… it's a little bit like roulette but with more thinking. Think I'll give this game a go another time as well! Check out the video above to see more of my betting and winning! The bets range from €1- €1.000 so all types of players can play this game!
If you feel confident enough to beat the house – Play Baccarat live by signing up to Lanadas!
Football studio
To be honest I had no idea what this game was about. Like what are you supposed to expect when someone says, "Football Studio". Therefore, I also felt enticed to try it out. In all honesty, it was not what I expected… Though I do not know what I expected… Basically, you have to guess who wins, The home team, away team or a tie. The cards drawn decide which score the teams get…basically a simplified version of Baccarat. As with Baccarat, the bets range from €1 - €1.000.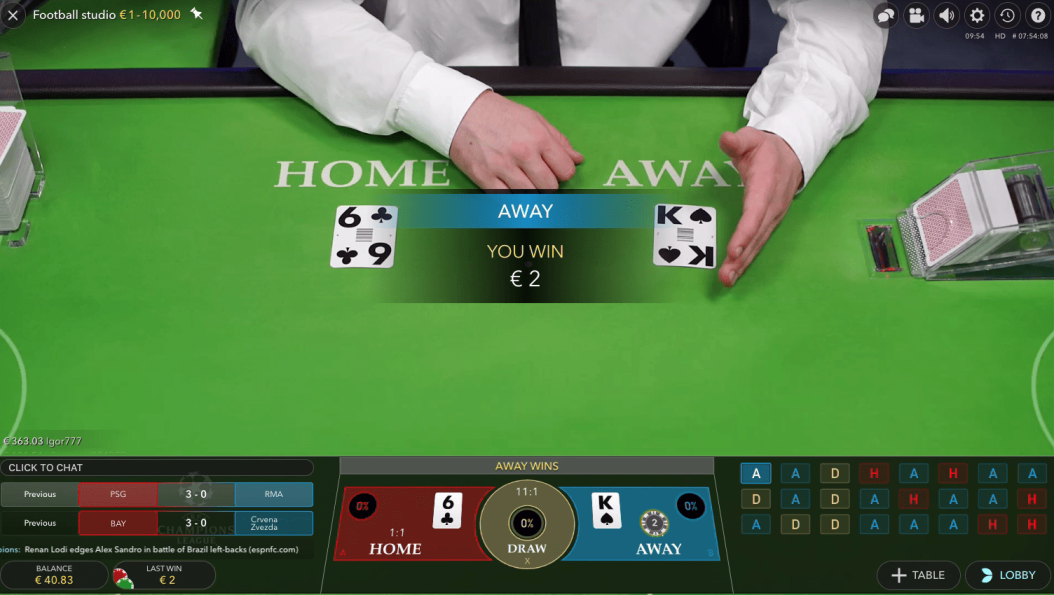 Dream Catcher
The third and final live casino game I decided to try out is the live casino wheel called Dream Catcher. Here we players place our bets on what number we think it will end on and if we guess right, we win money back. There is also a multiplier but in all the games I played this never happened. My internet connection was not the best during this game, and it was lagging a lot so, to be honest I did not appreciate the game because of this. I do think that a better internet connection would have made it more fun. You can still check my video above to see how much I won… it wasn't a lot … he he he…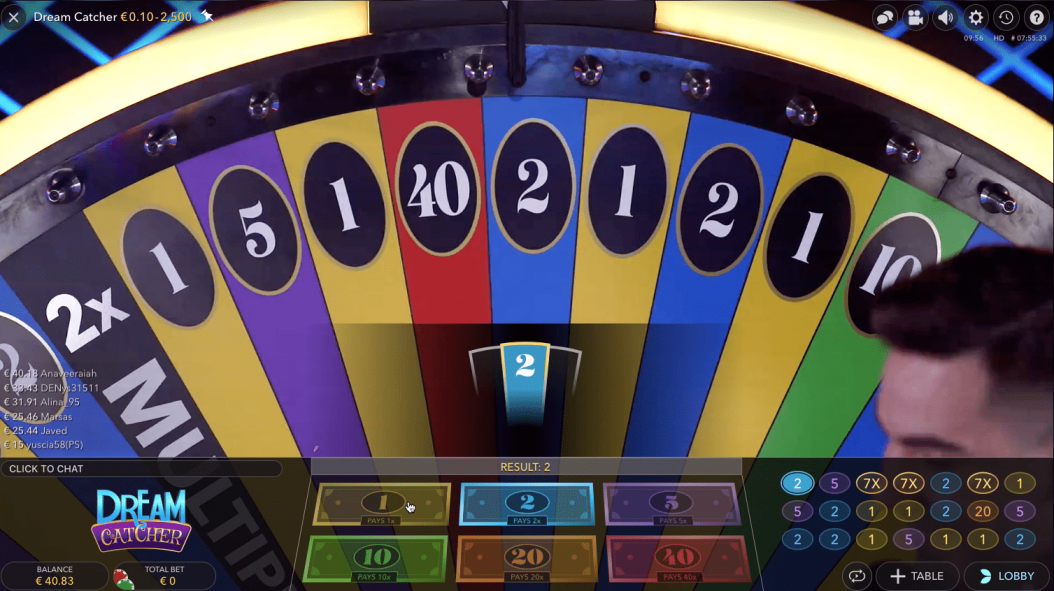 Catch your dreams by playing Dream Catcher – [Register your account with Lanadas today!
I like that there are other types of games than just the classical Blackjack and Roulette, even though these remain my favourite type of live casino games. Evolution Gaming, the game supplier behind these games, works hard to give us players a great experience which I think is noticeable with the great graphics available on each game. I also think that the dealers are very professional, I am always super impressed with people that can shuffle card games super fast and deal smoothly… when I deal, half of the cards turn the wrong way up…
Play Live Games on Lanadas – Register today and take part of the fantastic Welcome Bonus!