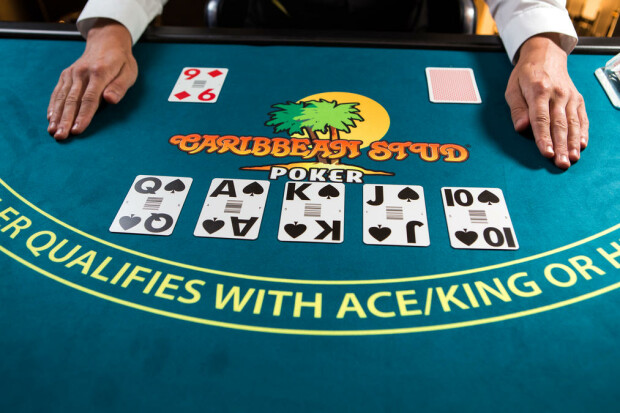 How to play Caribbean Stud Poker?
The difference between Caribbean stud poker and normal poker games is mainly, that you bet against the dealer directly and not against the other players at the table. This means that it does not make any sense to bluff during the game. You can find Caribbean stud poker in Lanadas Casino, where you can gamble online via your mobile device or your desktop, but also in the real-life casinos around the world.
The game is based on the same principal as five-card stud poker. The dealer deals you five cards, where one of the cards is turned upside down. You are allowed to look at your other 4 cards given, and you then make the decision either to play or to fold your hands. When you choose to play, you also make your bet. The dealer compares his hand and for him to be able to qualify and play, he has to hold a king and an ace, a pair, or any other high-ranking poker hand cards. If your hand cannot be beaten by the dealer, you will lose your bet and the ante. If you are even with the dealer, the raise and ante bets push. If the dealer does not qualify, the raise bets pushes, and the ante bets are paid to the players.
Learn How To Play Caribbean Stud Poker
In this excellent video tutorial uploaded to Youtube by Droid Slots, you can really get a feel for the game and most importantly; Learn How To Play Caribbean Stud Poker:
The rules are very simple at the table. The players are not allowed to have any communication with the dealer or the other players about the hand. If so, they will lose their bets and that results in a "dead hand". You can only play one hand, and you are not allowed to play or bet with two hands at the table. The best tip we can give you, is to play any pair you have and to fold everything less than an ace or a knight.
In general, Caribbean stud poker is a fun and interesting five-card game, and both offline and online casinos can give you many hours of excitement with this game. Usually it is a perfect game for people who already plays, or are fans of, blackjack or craps. The hardest discipline is to stick with your strategy and stay with it all the way through the play, so if you are the type of player preferring to rush and to make fast decisions, you might get bored with Caribbean stud poker and should instead consider looking for a normal poker machine.