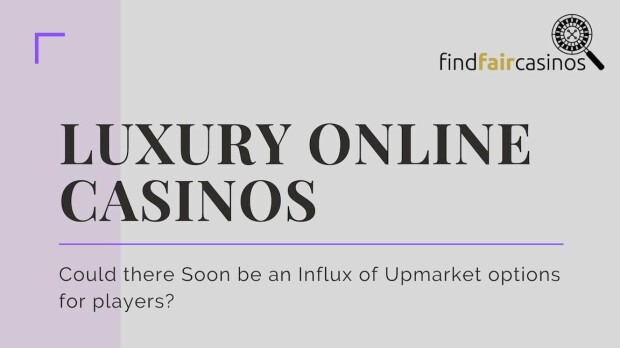 Luxury Online Casinos – Could There Soon be an Influx of Upmarket Options for Players?

Mats

Published 04/10-2021
When depicted in the media, casinos are often painted as opulent places where the crème de la crème hang out with one another. Thanks to the popularity of gambling houses, however, the reality is that most of them are designed to appeal to a much broader audience. This is certainly the case with online sites, where the overriding ambition is to attract as many players as possible.
Still, there are some operators that are trying to hold true to traditional casino values and offer a more upmarket experience in an internet setting. They are geared towards everyone but have that air of exclusivity about them. Thanks to their popularity, they could be at the forefront of a new trend in the industry.
What Makes an Online Casino High End?
High end casinos in the real world only permit high rollers to enter, and visitors must adhere to a strict dress code. This serves to alienate a vast proportion of players, who may not have the necessary wealth to get in. Still, it is many people's dream to be able to visit such luxurious settings, and it's something that online casinos may be able to compensate for.
Online casinos try to attract as many players as possible, but they can still opt for a lavish theme that conveys class. This gives every player the chance to feel as though they're a mover or a shaker when sitting at the tables. An example of a popular casino with an elite theme is supersevencasino.fi, which has a classy gold color scheme with stylish fonts. There are games that appeal to everyone, but there is a focus on the live offerings where the dealers are dressed in the most stunning finery – just as they would be in the gambling houses of Monte Carlo.
Will Famous Extravagant Gambling Houses Increase Their Online Presence?
The fact that online casinos can portray a sense of exclusivity online while still appealing to a broad demographic is something that could easily catch on. High end casinos in places like Monte Carlo and Macao could start to develop an online presence to increase their fame and notoriety. It seems that the days of land-based casinos ignoring the competition of the internet are over, and some gambling house owners are looking at ways to use media in their favor.
One of the best ways that casinos have used to gain attention in the past has been to offer Hollywood filmmakers the chance to film in them. For instance, the Bellagio has been used in numerous flicks including Ocean's Eleven. Now, though, it would be easier for casino owners to leverage the might of the online casino industry and get their names out into the online space. They could even create offers that encourage online players to visit the land-based counterpart.
With the incredible saturation of the online casino market, sites need to try new tactics to stand out from the crowd. One way to do this is to offer a luxury experience that makes players feel like high rollers. This is something that could easily catch on as luxury land based establishments seek to increase their online authority.