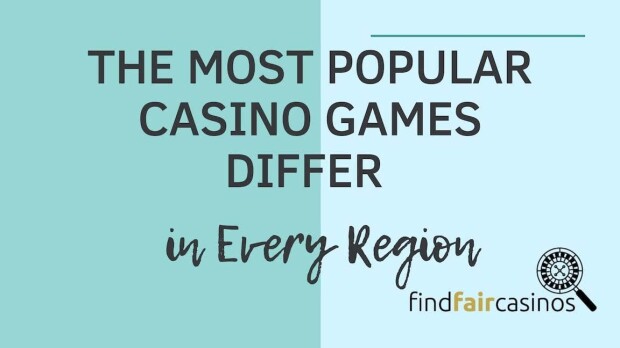 The Most Popular Casino Games Differ in Every Region

Osama

Published 02/12-2021
What are the most popular casino games? If you look at casinos in general, the answer will probably be "slot machines". There are thousands of online slots available from dozens of developers, each one with its own perks and benefits. But the most popular slots games in Thailand are not the ones most widely played in Europe and the Americas. The tastes of players differ from one region to another, reflecting the (gambling) culture of each of them.
Asia
Slot machines are popular in pretty much every region of the world but they are not necessarily the games that locals actually love to play. In many Asian countries, there are traditional games that are used for gambling that the locals are crazy about.
In Japan, pachinko - a game vaguely similar to slot machines but different in pretty much every aspect - is the most popular form of "gambling". The quotes are justified because of the specific regulations in the country according to which games of chance for money prizes are illegal. Pachinko parlours are, in turn, offering objects as prizes for their winners, which makes it a viable workaround.
In China, Sic Bo - a game that's a bit similar to craps - and Pai Gow are among the most popular single-player games of chance. At the same time, mahjong is played in a real-money multiplayer setting, too.
Finally, we have to mention baccarat, the casino game of French origin that probably reached France from Asia - it went full circle, becoming one of the most-played games in Asian land-based casinos.
The Americas
American casino-goers were simply in love with penny slot machines. As it turns out, it was a generational thing, though - the newer generations are slowly shifting away from one-armed bandits and toward table games, more exactly blackjack.
Blackjack is such a big thing in Las Vegas already that in the quarterly statistics of the Nevada Gaming Control Board. Casino operators are reporting that younger players are abandoning the slots and shifting toward more "skill-based" games - and the most widespread of these is, of course, blackjack.
Europe
Finally, let's take a look at the birthplace of gambling: Europe. The gambling scene here is incredibly diverse, covering everything from VLTs in pubs and gas stations to famous and grandiose casinos that have been around for centuries. This is why it's hard to point at a single game that is the most popular in the area.
In land-based casinos, roulette and blackjack are clearly ahead of anything else - roulette for its prestige and blackjack for its entertainment value. Online, in turn, slot machines are once again leading thanks in part to the incredible diversity of games available - some of the best-rated developers are based in Europe, and their high-quality games are available all over the place.