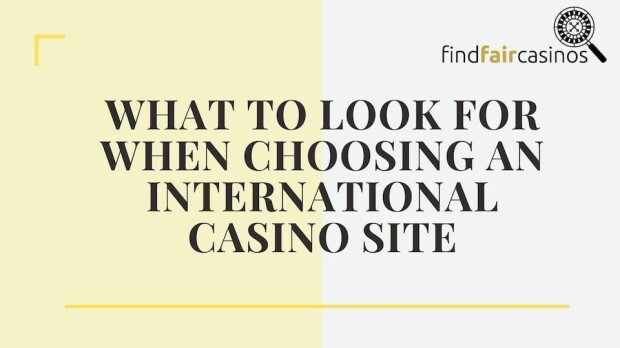 What to look for when choosing an international casino site

Mats

Published 13/04-2022
Online casinos have enjoyed incredible growth in the 21st century. There are several reasons for this, such as faster internet connections and more engaging game technology but a major factor has been changes in legislation. Lawmakers realised that, because citizens that want to gamble online will always find a way, they were wasting money trying to restrict online gambling – when they could make money from the tax revenue it generates instead.
However, legislation has some way to go in many countries around the globe. This means that players in countries where online casinos are restricted have little choice but to play on one of the growing numbers of international online casinos. In many cases, this is an excellent solution, as there are some reputable online casinos with international licenses. That being said, not all of these international casinos have the required gambling licenses so aren't held to the same standards of service and conduct as properly licensed casino sites.
Consequently, unsuspecting players are drawn in by their favourite casino games and huge bonuses – but soon find they have to jump over a million loopholes to withdraw any winnings. Sadly, lots of cheated players decide to cut their losses and give up trying to retrieve their lost funds.
With that scenario firmly in mind, this article discusses international casinos and the kind of licenses to look out for to indicate the website's reliability.
Online Gambling Regulation in the UK: The "British Model"
Although examples of online gambling regulation stretch back to the early days of the net, like Liechtenstein selling Lottery tickets online in 1994, perhaps the most important changes to gambling legislation took place in the UK.
In 2003, the UK replaced their existing gambling board with a new UK Gaming Commission (UKGC), which also regulated online casinos and betting sites. The UK, with its betting shops, slot machine arcades, and racings tracks, already had an established history of gambling. All the government had to do was update its laws to reflect changes in technology and society.
To obtain a license, online casinos have to undergo a long application process and then comply with several strict regulations. Crucially, this includes protecting their players' deposits. In return, they can legally market their brand to UK citizens.
Fortunately, the plan was successful, as the UK gambling market has a high channelling rate: which means the majority of players there stick with UKGC-licensed casinos, instead of going elsewhere. In fact, other countries admired how the UK handled its online gambling industry regulation so much that it became called the "British Model", with governments, like Spain's, following their example.
Halfway There: German Online Gambling Regulations
Now, while players in places like the UK know where they stand with online casinos, it's not so cut and dry in most countries in the world. And perhaps there's no greater example of this than Germany. Like the British, Germans already have an existing gambling culture, dating back to the 1500s. And historical casinos like Kurhaus, remain renowned tourist attractions.
Online casinos, on the other hand, were initially unregulated before being made illegal. The only exception to this, however, was Schleswig-Holstein, the northernmost of Germany's 16 states. Naturally, this led to German gambling websites attempting to sole obtained their licenses from Schleswig-Holstein. So, the other states could start collecting their own gambling revenue, they announced a new, unified gaming board called the state treaty and regulatory body, the Glücksspiel Neuregulierung Staatsvertrag (GlüNeuRStV), in 2019.
The GlüNeuRStV was scheduled to begin its regulation of the online gambling market in July 2021. But in the meantime, German sites that wanted to apply for a license had to comply with a series of new rules, which included:
•A 1€ betting limit on slot games
•A 5-second delay between spins on slots
•A player deposit limit of €1000 per month
•The removal of live dealer games
However, July 2021 came and went and, as yet, there is no still no actual license for casino operators to apply for. While this is bound to be frustrating for the site owners who made all the necessary changes to comply with the upcoming laws, it's also bound to alienate some players.
With all the restrictions in place, German online casinos aren't as appealing to players looking for higher better limits and a larger variety of games. German lawmakers have effectively tied domestic players' arms behind their backs and prevented them from competing with international casinos that offer more choice and chances to win. Consequently, German players are a good example of the increasing number of players choosing to play on international licensed casinos, like those featured on casinoohnelizenz.info.
International Licensed Casinos
While many German casino operators are stuck waiting for the GlüNeuRStV, next move, other companies looking to enter the market are choosing to go a different route: a casino license from an international gaming board. With two of the most popular choices being Curacao and Malta.
Curacao is located in the Caribbean and its gaming commission, the Curacao Gaming Control Board (GCB), is one of the oldest and most respected in the world. The Malta Gaming Authority is similarly respected and provides a comprehensive, stable legal framework.
However, it's not just some German operators choosing to acquire their casino license from Curacao or Malta. They're a popular choice for casino sites all over the world because their registration processes are among the two easiest and quickest in the world. Let's take the UK for example: applying for a license can take months, while with the Curacao GCB, it usually takes weeks.
The ability for casino operators to get their licenses from gaming commissions like Curacao's or Malta's isn't just beneficial for the operators, but for the players too. Because casino companies can get their sites up and running at less cost, they can put more money into player acquisition, which includes being able to afford generous welcome bonuses. Alternatively, they could put that money into their choice of games, giving players additional choice. "We've seen an increase in German players choosing to visit international casinos, which have no limitations, and we expect that number to keep increasing in the next 12 months," says Stefan Fischer from Casinoohnelizenz.info, an expert in casinos with international licenses."
-----
Though online casino regulation has come a long way in the last 10 years, in countries like Germany, there's still some way to go before everyone is on the same page. In the meantime, if you go in search of international casino sites without the same limitations as German online casinos, check for the kind of license it has. For international casinos, look for a mention of Curacao or Malta, as it indicates a reputable site where you can enjoy your favourite casino games.